Post by Leo on May 2, 2021 12:13:10 GMT -5
A wrestling ring is filled with members of the Maivia and Anoa'I families along with other notable wrestlers with a connection to the islands, such as Ricky Steamboat and Haku. Also present is Rocky Johnson, who married into the Maivia family. In the center of the ring is a pedestal with a large, older looking wrestling title belt.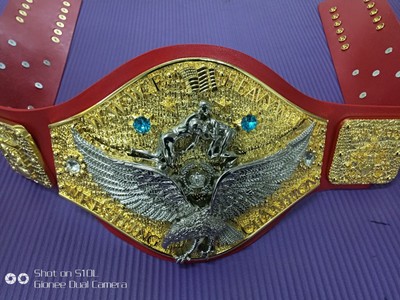 Stepping forward just to the side of the belt is "High Chief" Peter Maivia.
PM: It was my dream since being a little child to bring honor and glory to the name of Maivia, my family and the Pacific Rim featuring my native Samoa and my adopted home of Hawaii. To that end, I became the first ever King of the Islands Champion (gestures toward belt). Today, that dream is changing. Today my dream is to see my legacy, the legacy of the Maivia and Anoa'I families, to live on. The legacy of professional wrestling in the islands live on. The legacy of the King of the Islands Title live on. And for all that to happen, I present this title belt today to my grandson, Dewey!
Dwayne "The Rock" Johnson sheepishly comes forward and speaks to his grandfather under his breath, but it can be heard on the speakers.
DJ: It's the Rock, grandpa, we discussed this.
PM: Uh…I mean, The Rock!
DJ: Thank you, grandfather. It is my great honor and pleasure to accept my birth right here tonight. And I will strive my best everyday to be the champion that Pacific Rim Wrestling Council and all the people of the islands can be proud of.
Before he speaks further, he is cutoff by an unseen voice calling "hold up, just hold up." We see emerging out of the entranceway holding a microphone, MVP.
MVP: You just going to hand this fool a title belt because he was born in the right place at the right time to the right family name. Nah, that's not how this is going to go down. You see the Rock has two legacies (holds up two fingers). He might be Samoan on one side, but he's black on the other. He seems to have forgotten it and so has his dad, standing there as Peter Maivia's lapdog.
Rocky balls a fist and wants to jump, but Rock puts a hand on his chest to hold him off. The Rock raises the microphone.
DJ: I will not have you come here and insult my family. Or me. I remember where I came from. I came…
MVP: It doesn't matter where you came from! You shut your mouth and know your role!
DJ: That's my line! It's only because of my grandfather standing here that I haven't run out there and whip your candy ass right now. You're a jabroni to think you could walk in here alone and take me on.
MVP: Oh, I know it's going to take a nation to hold you back, but that's what I've got on my side now, not you. I've got a Nation of Domination.
Out of nowhere, a group of black men run into the ring and start attacking those in the ring. Caught off guard, they are able to drive most from the ring. Until the only one left is the Rock, trading fists with "Limitless" Keith Lee. The rest of the guys then start attacking the Rock. This includes Scorpio Sky, Cedric Alexander, Rich Swann, Jay Lethal and New Jack. The Rock is overcome by the numbers and takes a steel chair to the head by New Jack. Lee then picks up Rock and delivers a Rock Bottom. The title belt has been knocked to the canvas. Lee picks it ups, slings it over his shoulder and walks up the aisle to the entrance stage to stand next to MVP along with everyone else.
MVP: You forgot where you came from. You forgot who you really were. You didn't get anywhere in wrestling because you were a Maivia or a Johnson, it's because you had a Nation of Domination at your back. A Nation you've now turned your back on and works for me. We're coming for you and all of Pacific Rim Wrestling Council.