Post by Batman on Jan 5, 2011 14:10:42 GMT -5

: When the six of us defeated the Time Trapper, everyone ELSE was returned to their proper time and alternate universe. But all of us who were right there on the spot remain here on early-20th-century Earth--some of us displaced by only decades, others by centuries. Since then, with the help of Dr. Venkman, I have worked to find us a way home, with only the limited technology at our disposal. But, as one incredible threat after another has assaulted the multiverse, attempting to use this place and time as their foothold, and as we six have continued in our success in staving them off, I have come to the inescapable conclusion that THIS is the place and time where (and when) we are needed.
Also, much like another rag-tag group of illogical humans I once roamed the galaxy with... we make a "damn good" team:
SIX AGAINST...
(The last word changes with each story-arc: "HELL," "CTHULHU," "DARKSEID," whomever... but always a cosmos-threatening super-bad.)
Sherlock Holmes
Created by: Sir Arthur Conan Doyle, Dramatized by: Innumerable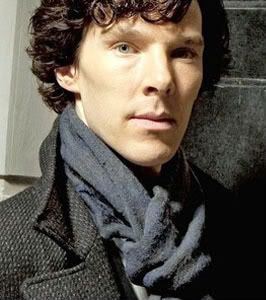 They are led by a man whose brilliance is unquestioned, even by Spock. His deductive genius is often the key to solving the ominous mysteries in which they become repeatedly entangled.
Inigo Montoya
Created by: William Goldman, Dramatized by: Mandy Patinkin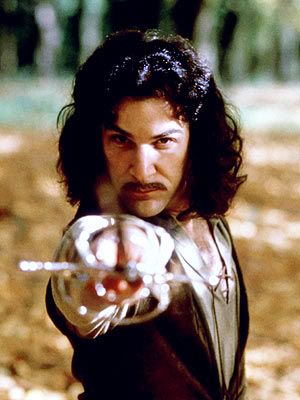 The world's greatest swordsman, Montoya is the beating heart of the team, leaping in when the others might prefer to consider and ponder a moment too long. Although (other than Cogburn) his team-mates are more intellectual than himself --"like working with
four
Vizzini's!"-- he has come to realize that they all have their dark burdens....
Lisbeth Salander
Created by: Stieg Larsson, Dramatized by: Noomi Rapace, Rooney Mara
Holmes had long believed that he would never meet a woman, other than Irene Adler, who was his intellectual peer. Until he met Lisbeth Salander--who once solved Fermat's Last Theorem in her head to occupy her time on a stakeout. Possibly as brilliant as Holmes, Salander is also one of the dirtiest & deadliest in-fighters around.
Mister Spock
Created by: Gene Roddenberry, Dramatized by: Leonard Nimoy, Zachary Quinto
Spock brings a number of assets to the team --the mind meld, the nerve pinch-- but his primary role is as the scientific expert. Many of the threats they face use some form of super-science that only Spock has the knowledge to unravel.
Doctor Peter Venkman, PhD
Created by: Dan Ackroyd, Dramatized by: Bill Murray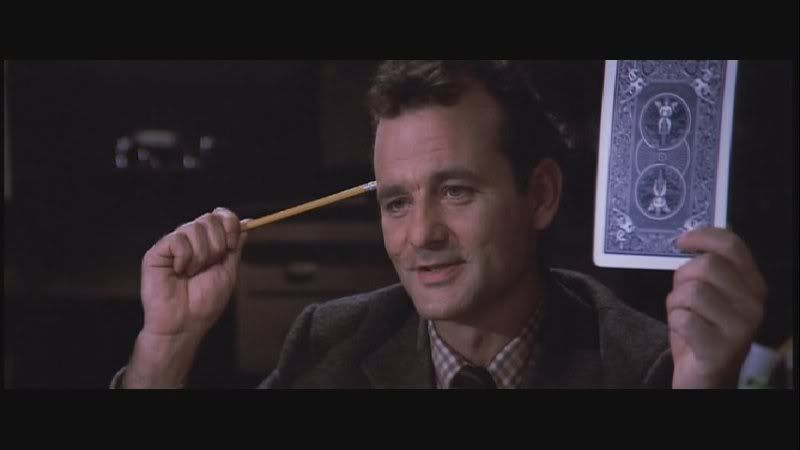 Doctor Venkman is also a scientist, but even with his massive ego, he would admit that he isn't in Mister Spock's league. But where he comes in is where Spock's knowledge has gaps-- the occult and magic. When the threat is more magical than scientific, Venkman's expertise becomes invaluable. Also his constant attempts to schmooze Salander are always good for a laugh.
Rooster Cogburn
Created by: Charles Portis, Dramatized by: John Wayne, Jeff Bridges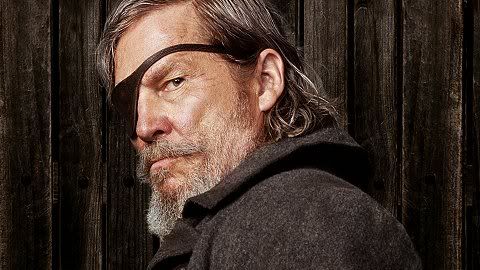 And finally, Cogburn is the go-to man when there is a threat that simply needs to be shot with guns until he/she/it is dead, dead, dead. He lends the group backbone when the going is very tough.